cooking
If you're a composer and you cannot cook, you cannot compose. Once a year, Morton Feldman used to invite his students to his home for a cookery class, which was really a lesson in composition.
The main thing is to develop something that in German is called Fingerspitzengefühl (fingertip sensitivity). That is particularly important when cooking because it is literally often a matter of seconds. The link to composition is the craftsmanship needed for both activities. For instance, you need to know that basil should only be added to a dish at the very last moment otherwise its taste gets simply ruined, whereas you should include rosemary from the start. Or that egg whites will not stiffen if even a tiny trace of yolk has been left in the bowl. Squid should not be cooked overly long, otherwise it becomes leathery. Detailed knowledge — about ingredients and methods of preparation — are equally relevant to a composer: notation, articulation, instrumentation, a feel for what works, and what doesn't. At the same time it is hard to capture such things in rules.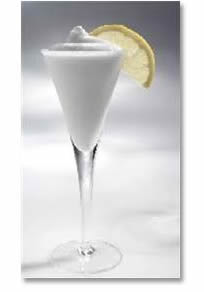 Most composers like good food because music is an artistic discipline that appeals to the sensual aspect of your perception. However, as a composer you need to be a good cook as well.
Sgroppino
a heavenly dessert from Venice
ingredients:
■ juice of one lemon
■ sugar
■ 500 gram lemon sorbet
■ 200 ml vodka
■ 1 bottle of prosecco
■ 8 champagne flûtes
preparation:
Pour the lemon juice onto a saucer and sprinkle some sugar onto a second saucer. Turn the champagne flûtes upside down and press them into the lemon juice, then into the sugar in order to get a nice edge on the glass. Allow the ice to melt slightly. Ladle the ice into a large bowl. Add vodka and wine. Beat the mixture with a whisk until frothy. Quickly divide the cocktail between the champagne flûtes. Serve immediately.