Venice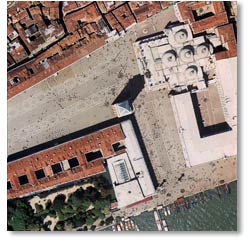 I first found myself in Venice during an InterRail journey in 1987. I only stayed for one and a half day, and I did not experience such overwhelming sensations as the first time I visited New York. Perhaps because I was still young. Also, I had just been to cities like London, Paris, Rome, Florence, and Budapest. With an InterRail pass you try to do all of Europe in a single month without realizing it's a mistake to travel so fast that you do not have time to process your impressions. I can hardly recall that first time in Venice.
Only later did I conceive an intense passion for Venice. I regularly go back there to recharge my battery — I believe it is the place where I belong. People ask if I'm not bothered by the masses of tourists, but you can very easily avoid them.
Again, I am particularly mesmerized by a visual aspect: Venice's street plan. Some streets are so small they do not fit onto a normal tourist map. One of my most precious books is a publication with the names of all the streets, squares, and alleyways (Calli, Campielle e Canali). It is my wish to get to know all of Venice — every nook and cranny. I must admit, I sometimes have the boyish habit of boasting about my ability to roam Venice without needing a map. I always know where I am and what route to take. Venice is the City of Memory.
In the course of history few cities have stayed exactly the same. Other big cities adapt to the times whereas Venice barely changes at all. Here, time literally stagnates as life speeds up in the rest of the world. If you want to cross the city you can do two things: walk, or take a boat. There are no faster options. And there never will be, for cycling is impossible and you cannot drive a car. The layout of the city forever determines its pace. It is a nice egalitarian feature that everyone is forced to walk or travel by boat. In Italy, you can tell the status of the people by the type of car that is parked outside their front door. Not so in Venice.
Could one argue that, within my compositional output, the Venice cycle is rather a place of memory than of rest? That question never occurred to me. Currently the cycle consists of two parts and it is clamouring for attention. In those pieces I want to focus on aspects of the city that are obscure and unknown. As always, I find the untrodden paths the most intriguing.