Antar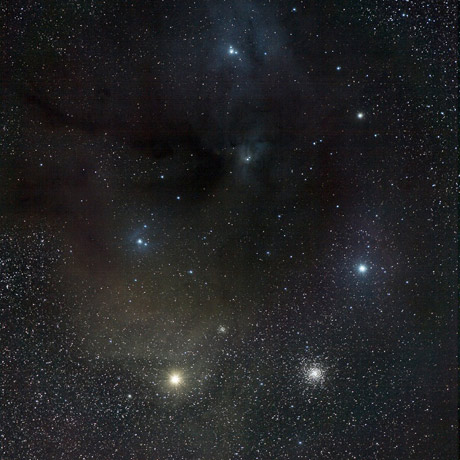 for chamber orchestra (1993)
7 minutes
|

no.10

'Antar' is short for 'Antares', the principle star in the sign of Scorpio.

Because of the relatively short duration one might think this one-movement work is merely a 'sketch' for chamber orchestra. Antar is however a highly concentrated composition in which everything that is put into motion musically is carried out ruthlessly till the end.

The piece seems to go in circles, 12 times in total. Each time a new segment begins, the tempo goes up. Every section consists of 16 bars with the same sequence of metres. And although rhythm-wise each segment is being articulated differently, the pattern with which the various instruments 'enter' and 'exit' - a pattern that has the resemblance of a chess board - is the same.

Antar starts with a texture which is halfway between chaos and order. The second segment is rhythmically more complex than the first, whereas the third is less complex that the beginning. During the course of the piece, the odd segments get progressively more uniform, whereas the even get more and more knotty. The eleventh segment is completely unirhythmic, the twelfth is the most polyrhythmic.
---
Scoring
2(=picc).2.2.2-2.2.2.0-str(6.12.6.4.4)
Commissioned by
Gaudemus (Netherlands)
Written for
Netherlands Radio Chamber Orchestra
Dedicated to
Michiel Hupkes
Première
19 December 1993
Muziekcentrum Vredenburg, Utrecht (Netherlands)
Netherlands Radio Chamber Orchestra
Ed Spanjaard (conductor)
Revised version
18 June 2005
ZaterdagMatinee & Holland Festival
Concertgebouw Amsterdam (Netherlands)
Netherlands Radio Chamber Orchestra
Peter Eötvös (conductor)
---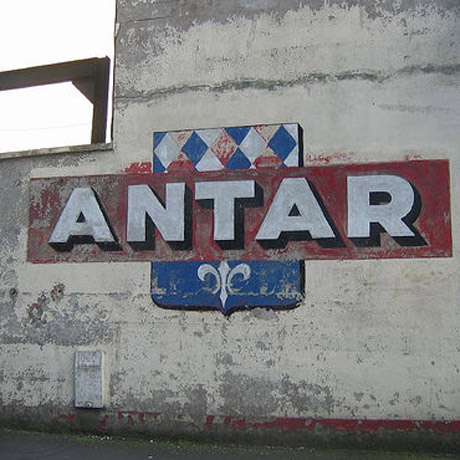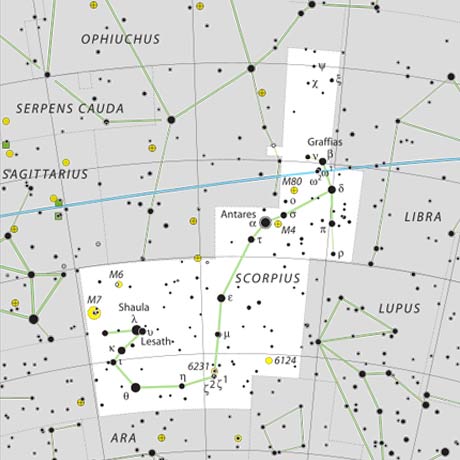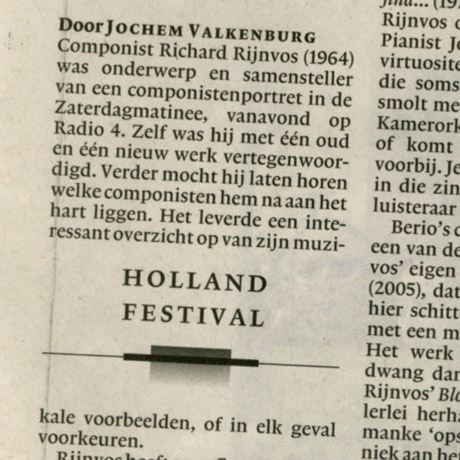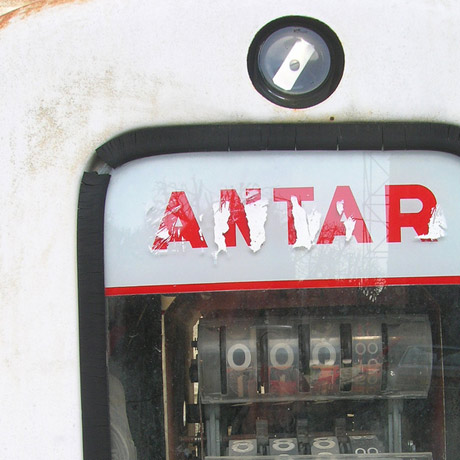 ---
Press
[...] Obviously most attention went to Rijnvos's own works. First of all to the new version of his orchestral work Antar, an unrelenting, aggressive, and monolithic piece full of magnificent colours, nocturnal blue and dark purple. [...]
Erik Voermans, Het Parool, 20 June 2005
[...] The piece consists of blocks that, at first, seem to evoke an impression of solidity, but, at closer hearing, turn out to be extremely transparent in texture. [...]
Jochem Valkenburg, NRC Handelsblad, 21 June 2005
---
Audio fragments
Performance
Netherlands Radio Chamber Orchestra
Peter Eötvös - conductor
Recording
18 June 2005, ZaterdagMatinee, Concertgebouw, Amsterdam (Netherlands)
by Dutch Radio NPS/AVRO/TROS (reproduced with permission)
Antar
excerpt 1
Antar
excerpt 2
Antar
excerpt 3
---
Score Excerpts