barbara baccante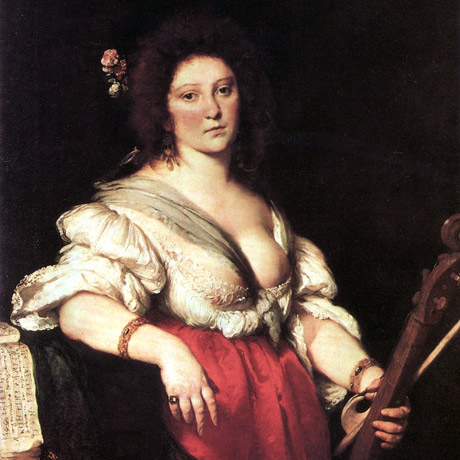 ritratto di una cantatrice barocca
per voce, violoncello e orchestra (2014)
22 minutes
|

no.31

The semi-theatrical melodrama barbara baccante portrays a key moment in the life of the 17th century Venetian singer/composer Barbara Strozzi. It consists of six scenes:
1. Prologo del melodramma
Barbara adorns her hair with a flower and desperately tries to calm her nerves.
2. Aspettando il dolce amato
Barbara eagerly awaits the arrival of the one she secretly admires and adores.
3. Evocando un duetto d'amore
Barbara worships her idol's beauty in song and seeks to steal a kiss.
4. Aspettando di una riposta
Barbara, waiting in vain for a response, denounces the inept archery of Amor.
5. Evocando un momento di silenzio
Barbara resorts to silence, offering her body as the instrument of love.
6. Epilogo del melodramma
Barbara is left alone, lamenting her sorrow and barbarous misfortune.
Image: Gambenspielerin (The Viola da Gamba Player), c. 1630–1640, (Gemäldegalerie, Dresden) by Bernardo Strozzi (believed to be a portrait of Barbara Strozzi)
---
Scoring
soprano (solo) & cello (solo)
orchestra: 2.2.2.bcl.2-2.2.2.1-perc(2)-hrp(2)-str(6.6.6vlnIII.6.5.4)
commissioned by
Cello Biennale Amsterdam
Written for
Salome Kammer & Nicolas Altstaedt
dedicated to
the memory of Barbara Strozzi
Première
18 October 2014
Cello Biennale Amsterdam 2014
Muziekgebouw aan 't IJ, Amsterdam (Netherlands)
Salome Kammer (voice)
Nicolas Altstaedt (cello)
Symphony Orchestra of the Amsterdam Conservatoire
Judith Kubitz (conductor)
---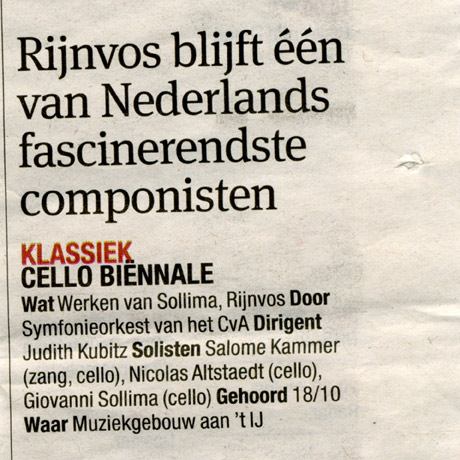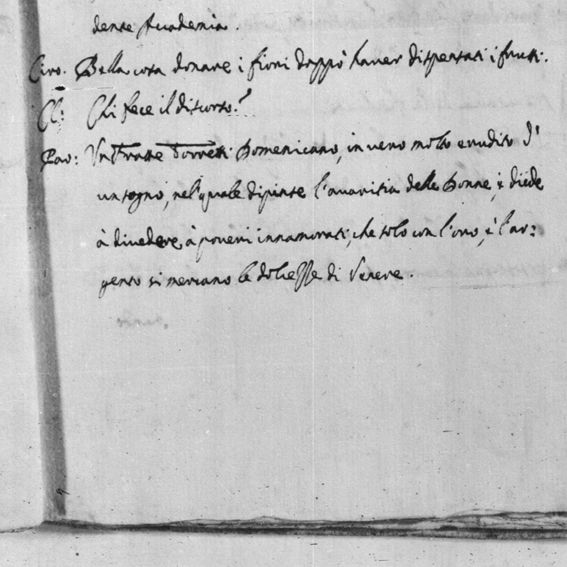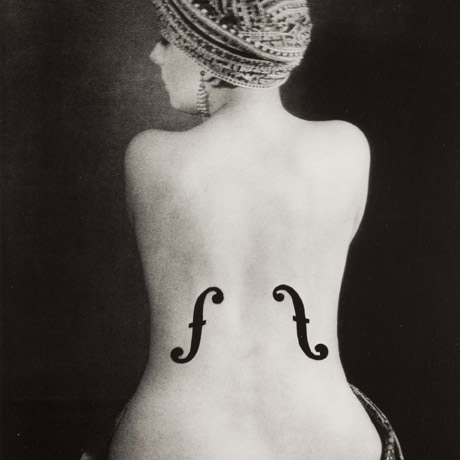 ---
Press
[...] The music in barbara baccante, the new masterly composition by Richard Rijnvos, appears as a natural phenomenon. Barbara is Barbara Strozzi (1619-1677), one of the first great female composers. She wrote songs full of unfulfilled desire [...]. Barbara's love proves to be a ghost, disappearing in the orchestra - volatile, intense and brief [...].
Biëllla Luttmer, De Volkskrant, 20 October 2014 (5 out of 5 stars)
[...] In barbara baccante, [Richard Rijnvos] tells the story of a woman who is after the cellist's love, but she is being spurned, even when she literally exposes herself. For better understanding the music requires repeated listening, but one thing is for sure: Rijnvos remains one of the most fascinating composers from the Netherlands.
Erik Voermans, Het Parool, 20 October 2014
When the singing and cello playing German actress Salome Kammer turned around [...], one could see the two f-holes on her back. She personified the famous photograph Le Violin d'Ingres by Man Ray: the woman as cello. The renowned [Salome] Kammer, portraying the 17th-century composer [...] Barbara Strozzi, insistently sought contact with the cellist Nicolas Altsteadt. She intends to sing a love duet with him, but fails. [...]. The world première of barbara baccante by Richard Rijnvos is the strongest interpretation of the theme 'cello and voice' during [...] the fifth Cello Biennale [...].
Kasper Jansen, NRC Handelsblad, 20 October 2014
---
Audio Fragments
Performance
Salome Kammer (voice), Nicolas Altstaedt (cello),
Symphony Orchestra of the Amsterdam Conservatoire, Judith Kubitz - cond.
Recording
19 October 2014, Amsterdam Conservatoire, Amsterdam (Netherlands)
barbara baccante
excerpt 1
barbara baccante
excerpt 2
barbara baccante
excerpt 3
---
Score Excerpts
---