Die Kammersängerin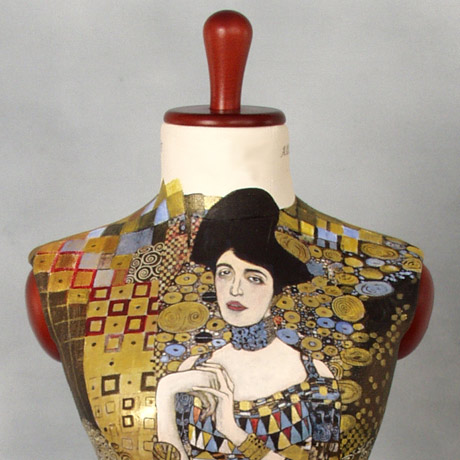 21 Lieder, 3 ohne Worte
for high soprano and ensemble (2009-2010)
on poems by Ernst Jandl
35 minutes
|

no.50

Morning. The Kammersängerin slumbers and listens to her breath. The eyes are hearing, the ears are seeing, her mouth opens and closes again. In it lives the tongue with her all-round role. Ears come in pairs, as do cheeks, thumbs, and feet, the navel does not though. And where there is no nose, there is no smell.

Afternoon. The Kammersängerin muses and measures her body. She counts one mouth, two feet, ten fingers, and lots of hair – lots and lots of hair. The heartbeats can be felt up to her finger tips and her temples. Her voice comes from above, she feels exalted, her voice thunders enormously, she feels in shape. From afar she hears birds sing.

Evening. The Kammersängerin practises and discovers her ailments. She makes an attempt on a song: another one, and yet another. Her eye is broken, her ear is deaf, her hand falters. As far as the weather goes, it is a dark day, and even more so from the inside: when does the heart finally switch off? She cherishes falling asleep.

photo: Tailor's Dummy Gustav Klimt by Irena S. Tyl
---
Scoring
high soprano-0.0.1.bcl.0-1.0.0.0-cel-harm-harp-perc(1)-str(1.0.0.1.0)
(preferably without conductor)
high soprano (solo)
clarinet in A, bass clarinet, horn
celesta (5 octaves), harmonium, harp, percussion (1 player)
violin, cello
Commissioned by
Ives Ensemble (Netherlands)
Written for
Marijje van Stalen (soprano) & Ives Ensemble (Netherlands)
Dedicated to
Luc Ferrari
première
8 May 2010, Muziekgebouw aan 't IJ, Amsterdam (Netherlands)
Marijje van Stralen (soprano), Ives Ensemble, Jos van Kan (stage director)
award
Matthijs Vermeulen Prize 2011
---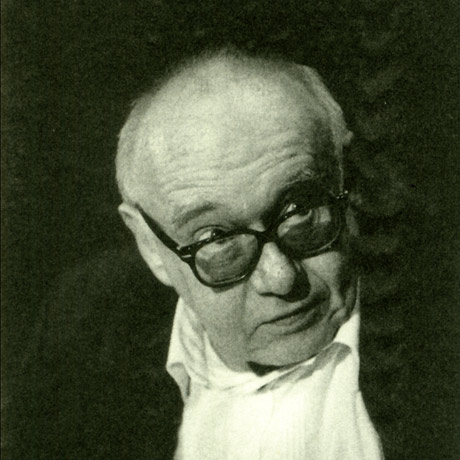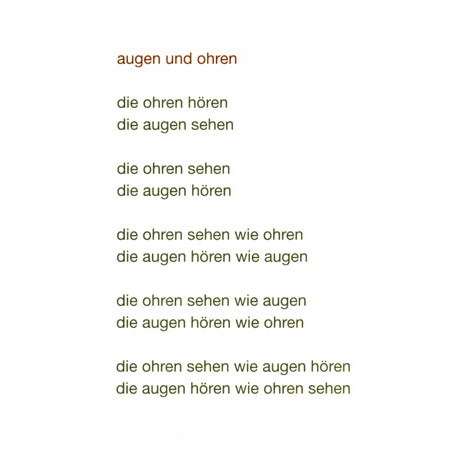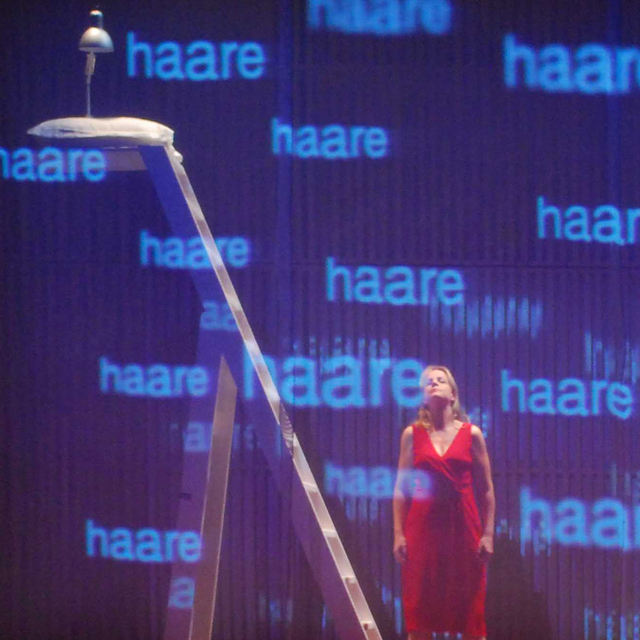 augen und ohren from: "Ernst Jandl - Letzte Gedichte"
© Luchterhand Literaturverlag, München, Germany; Verlagsgruppe Random House GmbH (reproduced with permission)
---
Press
Die Kammersängerin is a bull's-eye score. [...] The soprano Marijje van Stralen is the 'Kammersängerin'. In German speaking countries this is an honorary title for a league of singers of great merit (to which Van Stralen certainly belongs), but here the title refers rather to the very scene of the act. Reason: the cycle is staged. Director Jos van Kan lets the singer get out of bed, get dressed, wander about in front of a huge screen and go to bed again. In the meanwhile she sings mainly about her own body: her eyes, nose, fingers, hair, and so on. The point of the piece lies in the [animated] text projections onto the screen. [...] Words come to life, blow out of the soprano's mouth, swell, shrink, tumble when suitable, fall down, or create a sea in which the singer almost drowns. [...] Already, Rijnvos's work can be considered the musical highlight of the year 2010.
Frits van der Waa, De Volkskrant, 11 May 2010
---
Audio fragments
Performance
Marijje van Stralen (soprano) & Ives Ensemble
recording
13 May 2010, Theater Kikker, Utrecht (Netherlands)
by Kees van de Wiel for Concertzender (reproduced with permission)
Die Kammersängerin
excerpt 1: Lied 7 - "es riecht etwas"
Die Kammersängerin
excerpt 2: Lied 9 - "vermessen"
Die Kammersängerin
excerpt 3: Lied 17 - "zur stunde"
---
Score Excerpts
---