Central Dance in the Park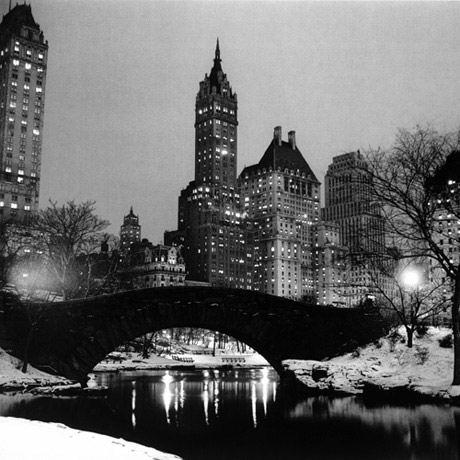 for piano and chamber orchestra (2004-2005)
12 minutes
|

no.22

In the heart of Central Park two people dance tirelessly.
Dazzled by enthusiasm they bump into a passer-by.
He turns out to be Charles Ives.
The couple continue their dance,
unperturbed and with great mirth,
and go for some passionate waltzing.

Central Dance in the Park is the third part of Uptown|Downtown, an urban panorama in six movements, which is thought of as an evening-long dance production about city life in Manhattan.
---
Scoring
pf solo-2.2.2(bcl).2-3.2.2.1-perc(2)-str(6.6.5.4.4)


Commissioned by
ZaterdagMatinee & Holland Festival
Written for
John Snijders & Netherlands Radio Chamber Orchestra
Dedicated to
Machiel, Rozalie, Borrel & Lupo
Première
18 June 2005 - ZaterdagMatinee & Holland Festival
Concertgebouw Amsterdam (Netherlands)
John Snijders (piano)
Netherlands Radio Chamber Orchestra
Peter Eötvös (conductor)
revised version (as part of NYConcerto)
24 March 2007 - ZaterdagMatinee
Concertgebouw Amsterdam (Netherlands)
John Snijders (piano)
Netherlands Radio Chamber Philharmonic
Stefan Asbury (conductor)
---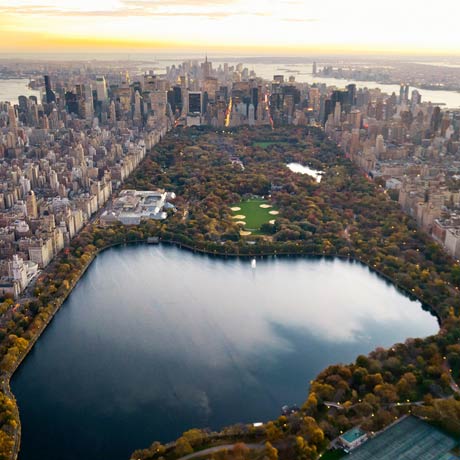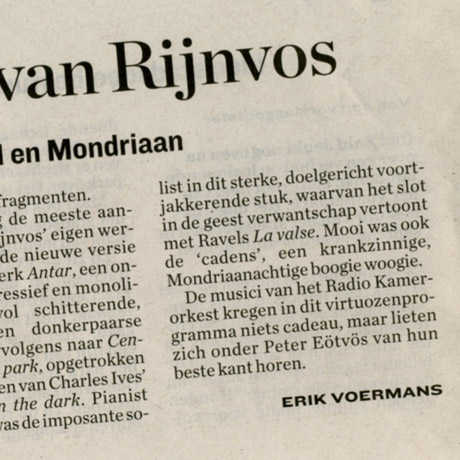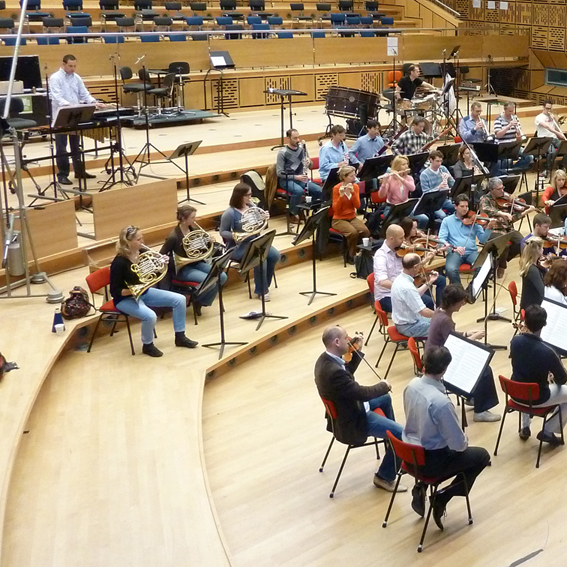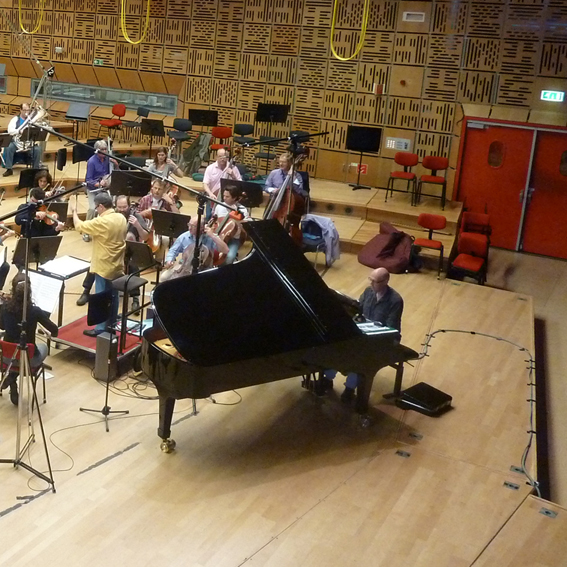 ---
Press
[...] Obviously most attention went to Rijnvos's own works. [...] And subsequently to his Central Dance in the Park, built from a few notes out of Charles Ives's Central Park in the Dark. Pianist John Snijders was the impressive soloist in this strong, purposefully hurtling piece, of which the ending shows a spiritual kinship with Ravel's La Valse. Also magnificent was the 'cadenza', an insane, Mondrianesque boogie woogie. [...]
Erik Voermans, Het Parool, 20 June 2005
[...] The piece has a drive and a compelling narrative power, reminiscent of developments in Beethoven sonatas, as well as the icily smart, tough abstraction of Boulez's early piano sonatas. [...]
Roeland Hazendonk, De Telegraaf, 21 June 2005
[...] It's a head-on collision. For Rijnvos's Central Dance in the Park is a whimsical piece that, driven by short compulsive chords, erupts in energetic flurries of notes. [...]
Winand van de Kamp, Haagsche Courant, 22 June 2005
---
Audio fragments
Performance
John Snijders (piano) & Netherlands Radio Chamber Philharmonic
Stefan Asbury - conductor
recording
24 March 2007, ZaterdagMatinee, Concertgebouw, Amsterdam (Netherlands)
by Dutch Radio NPS/AVRO/TROS (reproduced with permission)
Central Dance in the Park
excerpt 1
Central Dance in the Park
excerpt 2
Central Dance in the Park
excerpt 3
---
Score Excerpts
---
Part of
---
CD Recording